Come to the Banana Festival at Waimea Valley / Ka Mai'a 'Ho'olaule'a
October 21 @ 10:00 am

-

2:00 pm

Free
Get ready for a celebration at the Banana Festival, Ka Mai'a 'Ho'olaule'a, at Waimea Valley. Only $10. Includes admission to Waimea Valley.
"The festival engaged the senses—seeing the number of people in attendance reminded me that bananas are the most widely consumed fruit in the world; listening to the conversations at the information booths demonstrated interest in propagating and knowing more; tasting, touching and smelling the different varieties of bananas as we entered was an attention grabber!"
—Sharon Hurd, Chairperson of the Hawaii Board of Agriculture
Come to the Ka Mai'a 'Ho'olaule'a Banana Festival at Waimea Valley
The 2nd Annual Ka Mai'a 'Ho'olaule'a/Banana Festival will open up a world of banana flavors and colors. It will expand your notion of what a banana is and can be. The Fest will officially open at 10am and run until 2pm. A special lecture will be given from 9a.m.-10a.m., details below.
The Festival's numerous activities and events will help you both successfully grow and use bananas in new ways.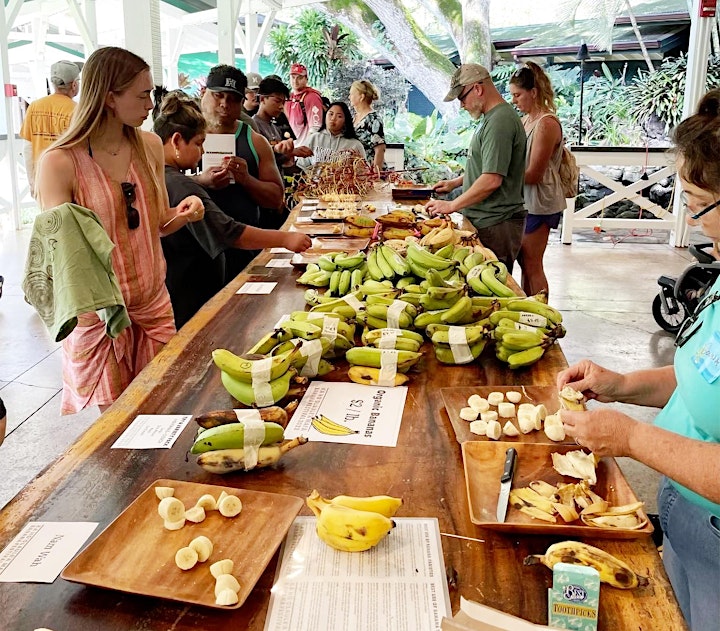 "Great crowd. Lots of people that are actually growing fruits and came to learn how do better."
—Mark Suiso, Farmer, Makaha Mangoes
Banana World
A number of chefs, including those from Koko Head Cafe and Nami Kaze, will provide samples of banana dishes for your enjoyment and edification.
Last year fairgoers enthusiastically sampled more than ten varieties of raw bananas at our18-foot-long monkeypod table. Our big table will once again sport a multitude of bananas for your tasting pleasure.
Babs Miyano-Young will again supervise the popular banana fiber printing booth. Bring your own tshirt and decorate it with botanical patterns or purchase a blank t-shirt and stamp away.
Mahina and Cheryl Pukahi from Waianae will be on hand to demonstrate lauhala and banana fiber weaving.
New this year will be the opportunity to dye a piece of kapa with fe'i banana sap. Wesley Sen will aid fairgoers in using this incredible purple dye.
A goodly variety of banana plants will be for sale, along with banana books, t-shirts and other mai'a paraphernalia.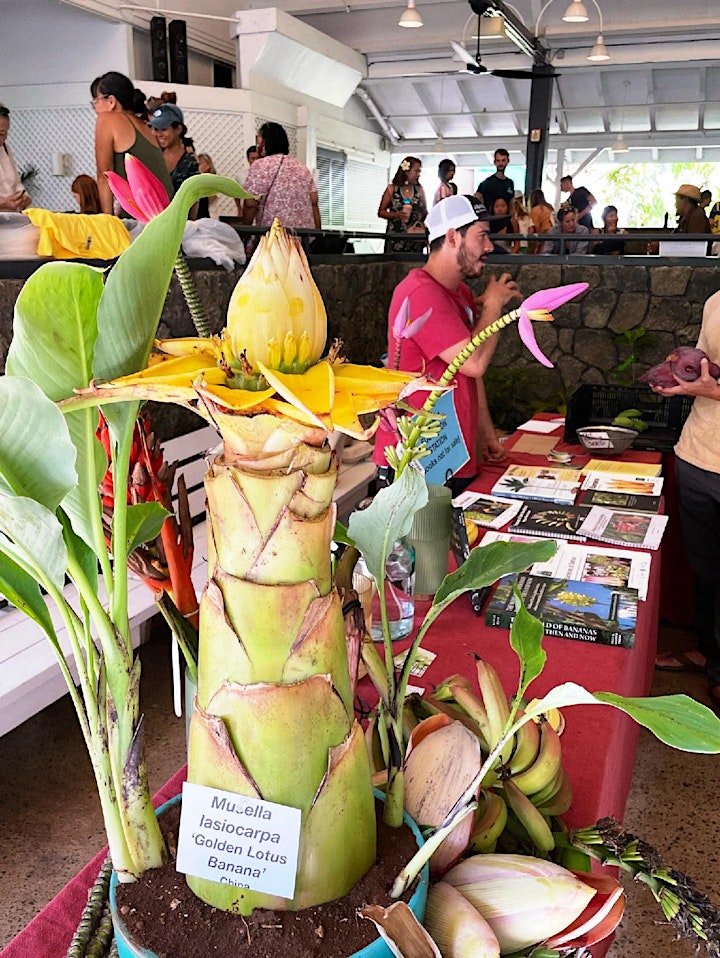 Details: Includes FREE Admission to Waimea Valley
There will be an admission charge this year to cover costs, but included with the cost will be free admission to Waimea Valley. Children under 12 are free. Tickets purchased in advance via Eventbrite are $10, tickets purchased at the door will be $12.
At 9am Gabe Sacher-Smith owner of the Banana Source and a co-sponsor will give a one-hour lecture on Mai'a (bananas)banana culinary lore, botanical history and best growing practices. This event will happen before the official opening of the Fest at 10am. Fairgoers who want to attend this very informative talk & slide show should be at Waimea Valley no later than 8:45 a.m. with your Eventbrite tickets in hand (or your can purchase tickets at the door.)
Join us for a fun-filled day at the Banana Festival in beautiful Waimea Valley! Get ready to indulge in all things banana, from delicious treats to great activities. The festival will take place on Saturday, Oct. 21 starting at 10:00 AM .
Located at Waimea Valley (59-864 Kamehameha Hwy, Haleiwa), this event will be a memorable experience for everyone.
Make a day of it!
Whether youʻre a banana enthusiast or simply looking for a day of fun and relaxation, the Banana Festival at Waimea Valley is a must-attend event. Mark your calendars and join us for a truly ʻa-peelingʻ experience!