Goat Cheese Making Class (Two days) – July 9 – 10, 2016
Manoa house 10:30 a.m. – Noon each day
In this two-day workshop, participants will learn the basics of fresh cheese making, as well as the nature and differences of various milk, cultures and coagulants. We will make two fresh cheeses: chevre and ricotta, using local goat's milk. Our instructor, Eliza Lathrop, is a teacher and urban farmer, who has been making cheeses at home for four years. She works primarily with goat milk from her two Nigerian Dwarf Dairy goats, and experiments with both fresh and aged cheeses.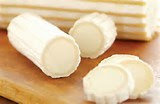 On day one, we will explore various kinds of milk, tasting for the differences produced by different animal breeds, and processing methods. Participants will prep milk for chevre, and make a fresh  ricotta to taste and take with them.
On day two, participants will finish the processing of their chevre, and taste finished sheep and goat's milk cheeses.
Participa
nts will leave with recipe for ricotta and chevre, as well as their own finished cheese. Each participant needs to bring with them a pot large enough to easily hold 8 cups of milk, mixing spoon, and colander.
The class size is limited to 9 participants.  Tickets are $50 for Slow Food members; $70 for non-members.
Register at: https://www.eventbrite.com/e/goat-cheese-making-class-tickets-26231757894