Learn How To Fillet, Prep, and Can Ahi
August 12 @ 2:00 pm

-

6:00 pm
Join us on Saturday, August 12, for a hands-on experience and learn the art of filleting, prepping, and canning Ahi tuna like a pro!
Slow Food Oahu continues its tradition of education on preparing local foods. We have 75# of Big Eye Ahi that we will be working with, along with two giant pressure cookers and a handful of simple ingredients—salt, carrots, and olive oil.
Slow Food Oahu is proud to present Jhana Young, Kathi Saks & Laurie Carlson, who will teach this class. You will be guided through the step-by-step process of filleting ahi, preparing it for canning, and preserving its freshness. You'll gain valuable skills and knowledge that you can apply in your own kitchen.
This in-person and hands-on class will take place on Saturday, Aug 12 at 2PM. It is a great opportunity to learn in a friendly and relaxed atmosphere. The class will last until the jarred ahi tuna has cooled and is ready to take home—about 4 hours.
Upon completion of the course, you will have four 1/2 pint jars of possibly the best canned ahi you've ever eaten. Unlike commercial canned tuna, our final product will include all of the natural fish oils and juices. Commercial products bleed these off-components to produce fish oil supplements, diminishing the nutritional value and flavor of their canned fish.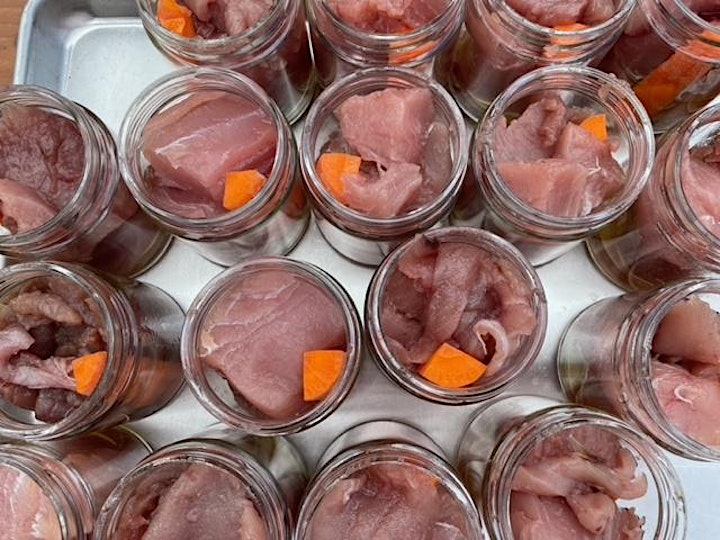 Bring your fish fillet knives, rubber gloves (if you wish), aprons, and cutting boards. We have a few extra if you're short.
Please bring a pupu and beverage to share while awaiting the final product.
Cost: $45 per person for nonmembers, $35 for Slow Food members
You get: 4 jars of the best canned ahi you will have ever tasted, and an the experience and education for making your own food.
Class is limited to 15 people
Refund Policy: Refunds will be given if the request is made seven days prior to the event; otherwise no refunds.
Location: Private Home Windward Oahu—Directions will be shared prior to the event.